As a critical part of our dual mission to address climate change and inequality, Laudes Foundation is committed to reducing our own, and our partners', greenhouse gas emissions, and safeguarding equality.
Our climate and equality commitment
Climate
As a global organisation with an historically high-touchpoint approach with our partners, Laudes is taking ambitious action to minimise the climate impact of our own operations.

Our commitment to reducing our carbon emissions, led us to commission Ecometrica to produce Laudes Foundation's carbon footprint assessment for 2021, which is based on the Greenhouse Gas (GHG) Protocol.
Mapping and reducing our emissions in line with a 1.5°C future
In 2021, our gross overall emissions were 337 tCO2e .
Our emissions' calculations included those generated by organisations where Laudes Foundation has an equity stake, including Fashion for Good (FFG), and CottonConnect.
Laudes Foundation's emissions decreased by 32% in 2021 over the previous year, partly due to a more robust data collection effort. The continuation of Covid-related travel restrictions were also a factor, and we moved into to more energy efficient office buildings in Amsterdam and São Paulo.
Business travel and electricity usage in our premises represented the most significant proportion of Laudes Foundation's total emissions; with business travel accounting for 54% and electricity accounting for 25%.
As regular business dynamics resume, mitigating the environmental impact of our business travel will continue to be an area of focus for the foundation to reduce our carbon footprint. We have a travel policy that favours low-carbon travel options, providing employees with information about the environmental impact of their travel decisions, and encouraging flexible working to reduce emissions from employees commuting to our offices. We also have a procurement policy in place requiring sustainability credentials from vendors and suppliers.
Reducing the emissions of our partners – our own equivalent of a supply chain – is also a key challenge. Encouraging more ambitious action on climate change, and allocating resources to enable partners to establish more robust carbon mitigation strategies is a priority for us in 2022.
At the same time, Laudes has purchased carbon credits to offset our 2021 total carbon emissions twice over. We partnered with organisations in Nicaragua and India that are running projects aligned with our own mission.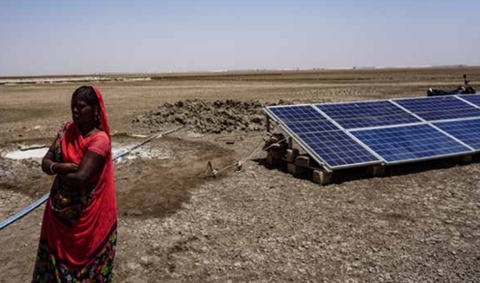 Laudes offset: 340 credits
About the project: designed exclusively for women farmers, giving them financial empowerment and reducing diesel consumption by more than 40%.
Annual average sequestration of 4,300 tCO2e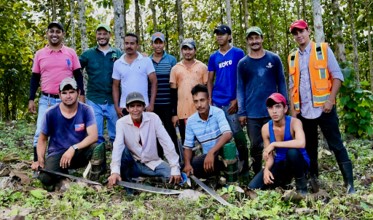 Laudes offset: 340 credits
About the project: restores biodiversity by planting native trees, creating more than 200 jobs with equal pay for men and women.
Annual average sequestration of 45,624 tCO2e
While helpful, we recognise carbon offset credits are not a substitute for prioritising the reduction of our energy consumption and carbon emissions, and we remain committed to this across the organisation.
Towards a carbon neutral philanthropy sector
Philanthropy is society's risk capital, and can play a catalytic role in enabling business, finance, and industry to accelerate the green and just transition to a net-zero carbon, climate-resilient economy. Yet despite being in a crisis situation, philanthropic foundations dedicate only an estimated 2% of their approximately USD 750 billion in global giving to climate mitigation. Laudes Foundation is actively galvanising the philanthropy sector to support effective and equitable climate action, and was pleased to sign the International Philanthropy Commitment on Climate Change (IPCCC) at its launch ahead of COP26.
By signing the commitment, we agree to use our resources, independence and influence to tackle climate change and inequality. Hosted by WINGS, we are part of a community of more than 170 philanthropic associations, networks, and funders across 55 countries.

The IPCCC is a global call to all foundations regardless of their mission, status or geography, to come together and signal their commitment to climate action, across their grantmaking, operations and investments.
To help create accountability mechanisms and engage other donors, we are also proving financial support to the IPCCC.
Our climate and equality commitment
Equality
We cannot address deepening inequality globally if we do not enforce comprehensive gender equality and social inclusion (GESI) considerations, both within our own organisation and the initiatives we support. In doing so, we have dedicated resources to building our capacity, and that of our partners, providing them with learning opportunities, ensuring safeguarding protocols are in place for both partners and the communities they work with, and committing to promote gender equality though our programmes.
GESI
Our learning partnerships
As a learning organisation, we strive to constantly strengthen the GESI knowledge and expertise of our teams and partners, so they can design partnerships and initiatives that effectively respond to the climate and inequality crises.
In 2021, we explored partners' GESI practices via podcast interviews.
Safeguarding our partners and vulnerable communities
Laudes Foundation is committed to protecting anyone who comes into contact with our staff and programmes, directly or through our partners, from exploitation, or any other form of physical, emotional or economic exploitation or abuse. Safeguarding is an important part of this commitment.
Over the course of 2021, we commissioned consultants to help our partners create and strengthen their own safeguarding frameworks, based on the work they do and the people they serve. As a result, 36 partners created new frameworks and 34 partners are in process of developing or implementing plans to comply with our safeguarding policy at Laudes Foundation.
Promoting gender equality
At the 2021 Generation Equality Forum, convened by UN Women and co-hosted by the French government, Laudes Foundation strengthened our deep support for gender, equity and inclusion by funding and making a public commitment to two new alliances launched under the Action Coalition for Economic Justice and Rights. 
C190 collective commitment: initiated by the Action Coalitions on Gender-Based Violence and Economic Justice and Rights, the commitment supports the ILO C190 capacity building programmes and resources for trade unions and women's movements, to secure safe working environments free from gender-based violence and harassment (GBVH). Since signing the commitment, Laudes Foundation has funded organisations in Asia and Brazil working to influence government from different countries for the ratification of the C190 commitment.
Global Alliance for Care Work: the alliance makes an urgent call to governments, international organisations, civil society, the private sector, philanthropic organisations, and other strategic partners, to bring positive change to alleviate the burden of care. This includes our support to continued investments in research and advocacy to strengthen social protection in the geographies where we work, and to bring a feminist lens to our work on new economic thinking – in alignment with our interventions. It also includes continuing to lead by example by ensuring our own workplace policies support the care needs of our employees and their families.
Fostering diversity and inclusion
We are investing in an increasingly diverse workforce with a global outlook, and building a culture that values difference, fosters inclusion and promotes collaboration and learning.

Laudes Foundation provides a suite of benefits designed to improve the financial, physical, mental health and wellbeing of employees and their families, aligned to our diversity and inclusion priorities.

We have established a diversity practice within our recruiting team, focusing on broadening the candidate pipeline, testing ways to remove implicit bias (via blind recruiting, for example) and providing training for hiring managers. We strive to eliminate bias from the process and improve the recruitment, advancement and retention of underrepresented talent.
Laudes Foundation demographic data
*Based on responses from 58 Laudes Foundation and Laudes India employees and contractors to a voluntary demographic survey in May 2022
Climate
Emission Scopes
Scope 1
Direct emissions from owned or controlled sources, including fuel to heat and cool our offices.
Scope 2
Indirect emissions from the generation of purchased energy for use in our offices.
Scope 3
Indirect emissions (not included in Scope 2) that occur in our value chain including business travel, employee commuting, home office energy use, and our partners' emissions.
Climate
Laudes Foundation
Emission by activity